May 12, 2020
CASE STUDY: How Panasonic Harnesses Remote Work During COVID-19
The COVID-19 virus disrupted most organizations' daily business, causing unexpected digital HR changes to facilitate the new normal. One major adjustment was the forced shift to remote work due to stay-at-home orders. 
Brian Kropp, chief of research for the Gartner HR practice, stated that prior to the COVID-19 pandemic, "30 percent of employees surveyed worked remotely at least part of the time." However, a Gartner Pulse Survey indicates that during this pandemic a majority of organizations have more than 80 percent of their employees teleworking. This dramatic shift from 30 percent to possibly 80+ percent working remotely serves as the impetus for changing and updating our business models.
Kropp went on to say, "Ultimately, the COVID-19 pandemic has many employees [working] in a way that they hadn't previously considered." The same is true for their leaders.
One productive way to handle this time of disruption is to reflect and recalibrate as we transition to the new norm. Step back and take stock of where your organization was before COVID-19, the accommodations made for the COVID-19 pandemic, and strategic next steps once COVID-19 restrictions are relaxed. 
To provide context for that reflection, we can examine one organization, Panasonic Corporation of North America, as to how leaders are pivoting and finding a positive way forward. 
Recently, I interviewed Linda Woodruff, Vice President of Rewards, HR Operations and Analytics for Panasonic Corporation of North America. Panasonic is a highly diversified organization that designs, manufactures and markets innovative products and human-oriented life solutions with the goal of "A Better Life, A Better World. 
As early as 2011, Panasonic's HR department adopted mobile, social, Internet of things and cloud computing initiatives. These combined capabilities enabled data analytics for managing talent and decision-making. Along with security and privacy policies, Panasonic's digital HR strategy offers an example of how one organization positively addressed the COVID-19 events. 
Pre-COVID-19 Digital HR Strategy
In practice, the Panasonic HR digital strategy includes an employee self-service portal for individual access to the cloud-based human capital management (HCM) system. Upper management and HR managers have access to the HCM, which provides dashboard and data analytics for decision-making. HR professionals within the organization have laptops. For security purposes, logins require multifactor identification. There is a work-from-home policy in place. Communication, collaboration and knowledge-sharing are enabled by collaboration software.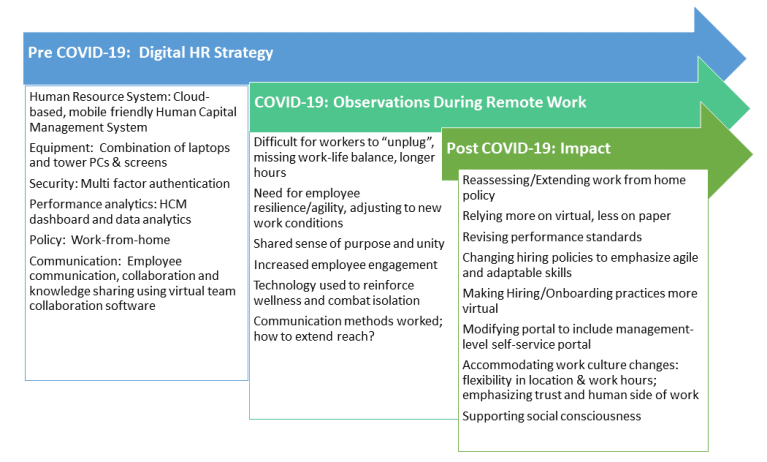 Digital HR Strategy During COVID-19
Prior to issuing the stay-at-home requirement, there was a dry run over a period of two days to test the capabilities of the system and mitigate any potential load issues for the network. Results of the test indicated no major issues and provided a way for employees to ensure they would have no problem accessing systems remotely. Panasonic executives were concerned that closing the offices would interrupt employee services. However, forethought and some minor adjustments allowed the payroll, benefits and year-end merit bonuses to take place seamlessly.
The majority of Panasonic's employees had laptops that they could bring home. However, for those with special equipment needs such as those who used tower computers in the workplace or who required dual monitors, Panasonic made necessary accommodations. 
Observations During COVID-19
Over the first month of remote working, some unexpected, mixed side effects surfaced. There were no necessary changes to the workflow since a work-from-home policy was already in place, including technology guidelines for proper use of equipment and Internet access.
The communication strategy includes using messaging software and vodcasts (video podcasts) to keep employees informed; this has worked well. Additionally, the product already in use for work collaboration allowed for connection on a personal level, weekly updates, social events and informal communication. While these strategies have been successful overall, the company faced some employee populations—specifically in the factories—that do not have the same access to digital communication.
Observations and adjustments for COVID-19 include the following: 
It has been a challenge for employees to unplug from work. Some people are working much longer hours, resulting in very little work-life balance. 
In spite of the daily demands of working from home, productivity has not suffered. According to Woodruff, the COVID-19 forced-remote-working conditions have demonstrated that "there is no lag in productivity; in fact, it might have increased." 
Personal resilience and agility—meaning the ability to respond and adjust to changes quickly—has become a necessity rather than a luxury. 
There is an emergent shift in purpose. Everybody seems to be "rowing the boat together" with a unified goal and sense of esprit de corps. According to Woodruff, the Panasonic HR team has always been cohesive and high-functioning, but the purpose-driven unity has grown—not diminished—under these challenging circumstances. 
Employee engagement has soared. Woodruff observed, "employees are laser-focused during the window of time they have delegated to work and 100 percent engaged." 
Working from home under the present pandemic generates its own challenges, such as a sense of isolation. To combat that, Panasonic's HR has provided online wellness incentives, bulletins sharing ideas for taking care of self and family, audible books on best practices working remotely and regular check ins.
Outcomes of Remote Working During COVID-19
Looking forward to the new normal, Woodruff anticipates some modifications to HR processes and procedures to include: 
Reassessing and revising Panasonic's work-from-home policy to incorporate more flexibility around work location and work hours established by the workers' own needs and lifestyle.
Reducing dependence upon printing, thus creating a more environmentally friendly workplace.
Adjusting metrics and objectives for performance assessment measures tied to remote workers' productivity, regardless of location.
Hiring workers that embody the characteristics of being agile and adaptable, beyond and in addition to technical skills.
Conducting interviews and onboarding virtually using the HCM already in place.
Modifying the self-service portal to include a management-level self-service.
Reinforcing and harnessing the positive cultural changes, such as focusing on trust and the human side of work and supporting the social consciousness that has emerged. "It really builds cohesiveness and a sense of purpose," Woodruff explained.
These are the short- and long-term impacts of COVID-19 on one organization's digital strategy as it pertains to remote work. If there is anything that we have learned from COVID-19, it is to share our common humanity and support each other. This is a strategy that cannot fail.