November 19, 2020
What Does an Inclusive Leader Look Like?
Since 2015, we have assessed more than 3,000 leaders on inclusive leadership. We began with working assumptions grounded in knowledge and research on leadership, diversity and inclusion. We tested our assumptions through fieldwork and then through the rigorous analysis of data collected from thousands of leaders. Over time, our knowledge deepened and evolved into our inclusive leader model. 
With this experiential and quantitative grounding, we mapped out a clear, inclusive leader profile of competencies and traits, this time based on a thorough analysis of Korn Ferry's database of more than 3 million leadership assessments. We then used a variety of additional qualitative testing strategies, which included an inclusive leader survey of talent professionals, in-depth interviews with inclusive leaders, focus groups in Argentina, Colombia, Germany, India and the United States, and one virtual focus group with five participants from different African countries. This rich and diverse data provided us with profound insight into what it takes to be an inclusive leader. 
We determined that inclusive leadership can be defined empirically and experientially by looking at specific inclusive leader competencies—what leaders do to be inclusive—and traits—who they are that leads to their being inclusive. Therefore, inclusive leadership can be assessed, coached and developed. 
We define inclusive leaders as leaders who interact with the diversity around them, who build interpersonal trust, who take the views of others into account and who are adaptive. These abilities increase their effectiveness and the impact they have on individuals, teams, clients, customers and communities—and therefore on the organization as a whole. 
Traits: Inner Enablers of Inclusive Leadership 
Traits are how we are wired. They indicate our personality characteristics, which heavily influence how we think, feel and act. In our inclusive leader model, traits are the enablers that support the inclusive leader competencies. Taken as a whole, these traits help answer the following question: What is a leader's natural disposition toward differences? 
We found five trait clusters (authenticity, emotional resilience, self-assurance, inquisitiveness and flexibility) that enable inclusive leadership, and each contains several subtraits:
Authenticity requires humility, setting aside ego and establishing trust in the face of opposing beliefs, values or perspectives. 
Emotional resilience requires the ability to remain composed in the face of adversity and difficulty, including when one is around others with differences. It also requires situational awareness, to be able to pivot and change behaviors to effectively manage diversity. 
Self-assurance requires a stance of confidence and optimism. 
Inquisitiveness requires openness to differences, curiosity and empathy. 
Flexibility requires the ability to tolerate ambiguity and to be adaptable to diverse needs. 
Competencies: The Five Disciplines of Inclusive Leaders 
Traits such as an openness toward differences are must-haves, but they are not enough to make an inclusive leader. An inclusive leader must also possess the skills to lead inclusively. 
We found and used empirical analysis to organize these competencies into the clusters that we call the five disciplines. The inclusive leader builds interpersonal trust, integrates diverse perspectives, optimizes talent, applies an adaptive mindset and achieves transformation. 
Builds interpersonal trust. The inclusive leader embraces perspectives that differ from their own; they are honest and authentic. 
Integrates diverse perspectives. The inclusive leader considers all points of view and the needs of others and skillfully navigates conflict situations 
Optimizes talent. The inclusive leader motivates others, supports their growth and joins forces for collective success.
Applies an adaptive mindset. The inclusive leader takes a broad worldview, adapts behavior to suit the situation and creates new approaches. 
Achieves transformation. The inclusive leader confronts difficult topics and brings people along to achieve results. 
The five disciplines, based on competencies, are enabled by the five trait clusters. The figure below shows how these are related. Leaders can have expanding spheres of impact that flow from self, team and organization. If we follow the inclusive leader model in the figure clockwise, the spheres of influence widen as one moves along the model.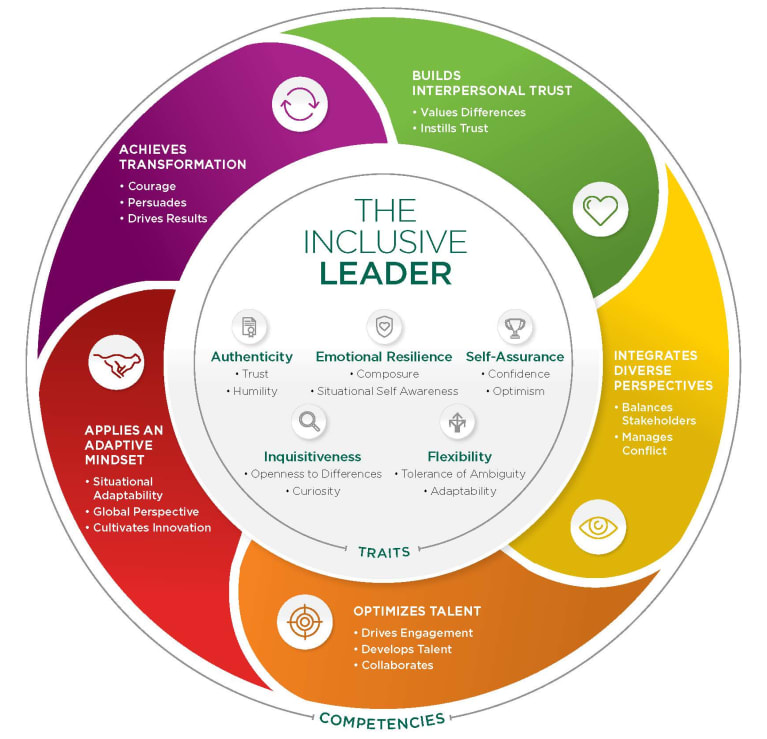 Builds interpersonal trust primarily involves the spheres of self and team, while integrates diverse perspectives moves more fully into the realm of impact on the team. Optimizes talent has a major impact on both the team and the organization, but both still primarily relate to the direct impact on talent. It's in the last two disciplines, applies an adaptive mindset and achieves transformation, where the impact lies heavily on the organization—not only on people strategies and experiences but also on other business imperatives, such as innovation, globalization, brand and reputation, and growing market share. 
Excerpted from The 5 Disciplines of Inclusive Leaders: Unleashing the Power of All of Us by Andres T. Tapia and Alina Polonskaia (Berrett-Koehler Publishers, 2020).