June 3, 2021
Rethink and Reinvent Diversity and Inclusion
Diversity and inclusion (D&I) have been buzzwords for several years, but in the most recent months, the pressure for social and racial equality has intensified, as did with diversity and inclusion in the workplace. In response to the pressures, many companies have publicly promised to create a diversified and inclusive work environment. Recruiters across many disciplines of businesses have been instructed and challenged with seeking diverse candidates for open positions. There is more to diversity than race, age, gender, sexual orientation, veteran status and disability. Where does inclusion fit in? How does it impact the organization? One equally important question: Does inclusion in an organization mean acceptance or tolerance?
Most companies have grasped the concept that a diversified organization puts us at a competitive edge; however, top-level executives and some recruiters alike are still battling with the diversity paradox....we want diversity, but we hire people who look and sound like us. We want people to bring their authenticity to our culture, but we don't want them to change our culture. So, the questions are, do we really want change? Are we willing to change our views about what a candidate should look like? Are we willing to change our views about how a candidate should speak because it may not reflect who we are?
Diversity and Inclusion
Diversity goes beyond numbers of people and their obvious traits and characteristics. It also includes the not-so-obvious traits, such as moral character traits, and diversified thoughts and perspectives. Diversity is typically measured as quantitative data but may overlap with qualitative data. Quantitative data is important; however, qualitative data can inform decisions and practices because it tells the story from the voices of the individuals impacted by our decisions.
Inclusion is the act of empowering people and their voices with an intrinsic outcome—a sense of belonging. Inclusion is a qualitative measure, usually in the form of surveys, case studies, interviews and focus groups. 
Disruption: An Evolved Cultural Need
Establishing equitable strategies disrupts the business because it can overhaul the culture and the people who are determined to sustain said culture. It can cause a disturbance to the way organizations are accustomed to doing business—"If it is not broken, why fix it?" Wrong. Disruption every now and again is good for business. 
Disruption is necessary to keep companies relevant, innovative and indispensable. The effects of disruption positively impact the sustainability of the business and will have a tremendous value-add to the bottom line. 
According to Diversity, Inc., organizations that did not embrace D&I were outperformed by others who did by 25 percent. Further, our future leaders—Millennials and Gen Z—equally value a diversified and inclusive work environment. Currently, the workforce is made up of 54 percent of Millennials with Gen Z moving into the workforce. 
According to the U.S. Labor and Statistics Bureau, companies experience 2 million people a year who leave their organizations. This equates to approximately $64 billion a year. High turnover and recruitment costs negatively impact the bottom line. The report concludes that 31 percent of the workforce is leaving due to lack of empowerment and 43 percent of the workforce is leaving due to lack of recognition. 
People want to bring their authenticity into the workforce, and they want to be empowered. Now more than ever, a sense of belonging is paramount to any organization. The entire organization needs to embrace and truly foster this inclusive culture to decrease the turnover, increase the productivity level which will, in turn, impact the bottom line, while driving the organization forward. The reality is if we do not move the organization forward with an equity lens, we are destined to fail.
Strategies 
Strategic planning is often related to developing overall goals that aligns with the business mission and vision. In my opinion, this conveys tunnel vision. My definition of strategic planning is to creatively and methodically develop long-term solutions to the business from a cultural, organizational and talent management perspective that aligns with the business mission and vision. It is about problem solving throughout the entire organization. All businesses have their own specific and unique problems to solve. As such, there is not a one-size-fits-all in strategic planning. 
We can all agree that, historically, HR's strategy has always been to embed ourselves into the business; however, we must expand our knowledge to embed the business into HR. Understanding and embedding the business into HR, not only builds trust and respect within the organization, but also improves how we financially impact the business. 
In this context, we have set up a framework to determine that we must disrupt the culture to satisfy the business need to become an equitable organization. With that, below are a few overall strategies to embed diversity, equity and inclusion into the organization.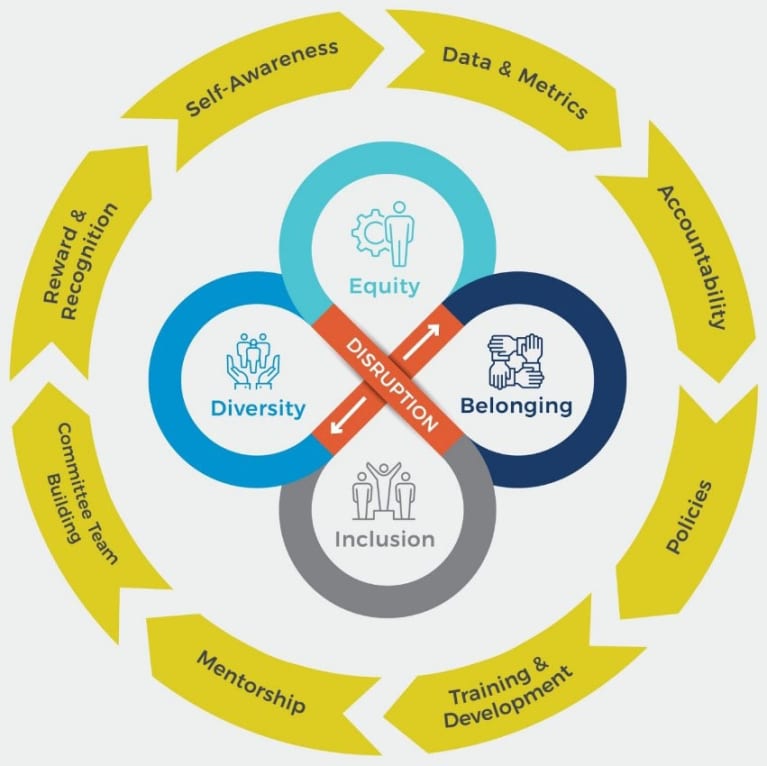 Self-Awareness and Core Values
We live in an age where we have been challenged to examine our priorities. While every organization must look at the bottom line, ethical considerations should also be valued and integrated into our systems.
Cultivating an inclusive culture starts with our value system. The foundation is with our unconscious and implicit bias. We prohibit ourselves from being inclusive because we tend to be afraid of the unknown. We must understand our biases and hold ourselves accountable for them. Have that difficult conversation. Yes, it will lead to conflict and challenges, but who said that was a bad thing? Conflict and challenges will create clarity. Conflict and challenges facilitate dignity and cohesion—let's have all of the puzzle pieces connect instead of having missing pieces.
Commitment
Fostering an equitable and inclusive environment is a commitment; be committed to disrupting the culture; be committed to change into an equally valued and equitable organization; be committed to accepting different opinions and views; be committed to an open mind; lastly, be committed to change the culture for future success. 
Equity Policy 
Establish an equity policy to ensure that current policies and procedures throughout the organization are looked at through an equity lens. 
Strategic Accountability 
Establish a common vision/purpose for equitable initiatives. Set clear goals/expectations and timeline. Communicate clear goals/expectations and timeline. Establish consequences by measuring behaviors and embedding them into performance evaluations. Remain in continuous collaboration, discussion and coaching to address deficiencies. 
Data and Metrics
Qualitative Data: Implement resource groups, surveys and one-on-one meetings through the equity lens. This will empower the people in the current culture while gathering pertinent data. Surveys and qualitative measures can inform decisions within an organization. It can inform practices and ways to rebuild the culture.
Quantitative Data: Gather and assess the metrics through a diversified and equitable lens to make decisions towards an in-depth strategy. It is beneficial in aligning HR strategies with business strategies to improve the impact on the bottom line. Quantitative measures can inform decisions within the organization to ensure equitable practices.
Key Performance Indicators: Establish key performance indicators to effectively measure whether we are reaching our target initiatives to embed an equitable organization. 
Training
We must creatively establish training on the unconscious bias across the organization to break barriers. In today's world of digital technology, we must utilize various forms of training methods to reach various communication styles.
We must also establish additional specialized training on the unconscious and implicit bias training is required for recruiters because they hold the key to a diversified and inclusive culture. Recruiters are the first people to screen candidates and determine whether they move along in the interview process. If recruiters are not culturally aware or have biases, it would hinder a truly diversified and inclusive work environment. 
Mentorship Program 
As an extension to the training, we must set up mentorship programs with a diversified lens. This may include group, peer and/or supervisory mentorship through the equity lens. The main goal is to create synergy amongst a diverse group. 
Committee
Establish a committee within the business to discuss equitable practices within their disciplines to align with the overall company goal to foster an equitable, diversified and inclusive work environment. The goal is to gain new perspectives and learn from a diverse group.
Recognition and Reward Programs
Establish an innovative reward and recognition program for a diverse group through the equity lens—young professionals, minority females, etc. Reward programs drive recognition and empowerment within the culture. Measure. Evaluate. Reassess. Repeat. 
This is the most important process that usually falls by the wayside. HR leaders must remember to never stop coaching, guiding, training, relationship building, reassessing and following up with all stakeholders, especially when it comes to inclusion initiatives. The goal is to continuously evolve as the business evolves.
Conclusion
Disrupt your organization's idea of diversity and inclusion. Top organizations should be looking beyond just headcounts and make equity, inclusion, and a sense of belonging priorities – continuously supporting these ideals with strategic planning and action steps aligned to the plan. We must be accepting and cognizant of our level of cultural awareness, and it starts with our self-awareness and core value system. The question now is: Are you ready to take this first step? Together, we can disrupt the culture and top leadership mindset to drive the business into the future.