March 12, 2020
Leading with Technology: Digital HR Strategy
This is the final article in a three-part series on HR executives utilizing technology to better lead and empower HR. Read the first article here and the second article here. 
It is undeniable, technology has altered our lives. A 2020 Technology Vision article by Accenture states, "52 percent of consumers say that technology plays a prominent role or is ingrained into almost all aspects of their day-to-day lives. An additional 19 percent report that technology is so intertwined with all aspects of their day-to-day lives that they view it as an extension of themselves." 
Big data and data analytics, cloud computing, mobile computing, social media and the Internet of Things (IoT)—all characterized as disruptive technologies—impact both our public and private lives. Consequently, workers expect the workplace to implement these technologies. That means seamless access to talent information, knowledge assets, learning opportunities and performance support enabled by mobile and supported by IoT. 
In order to provide these knowledge assets and services, HR must have a digital strategy. How does HR approach a digital strategy? What must be considered? What are the major components?
Examine the As-Is State of HR
To develop a digital HR plan, there must be a clear delineation of the "as-is state." First determine the system or systems presently used to handle the HR functions. Work with the IT department to identify an HR system architecture. Be sure the system architecture captures all the HR systems.
What you will probably find is that HR functions in your organization are supported by multiple systems. Those systems may have their own databases. Why is this information important? A multi-system configuration often results in information redundancies where data is stored in a variety of places and formats which most importantly results in inaccurate reports. Management for results requires that we use information to inform our decisions.
The goal should be a "single version of truth," which according to Forbes means agreed upon key metrics derived from a specific source. This may require rethinking the systems that your organization uses to support HR functions.
Address Talent Management, Learning Management and Knowledge Management Strategies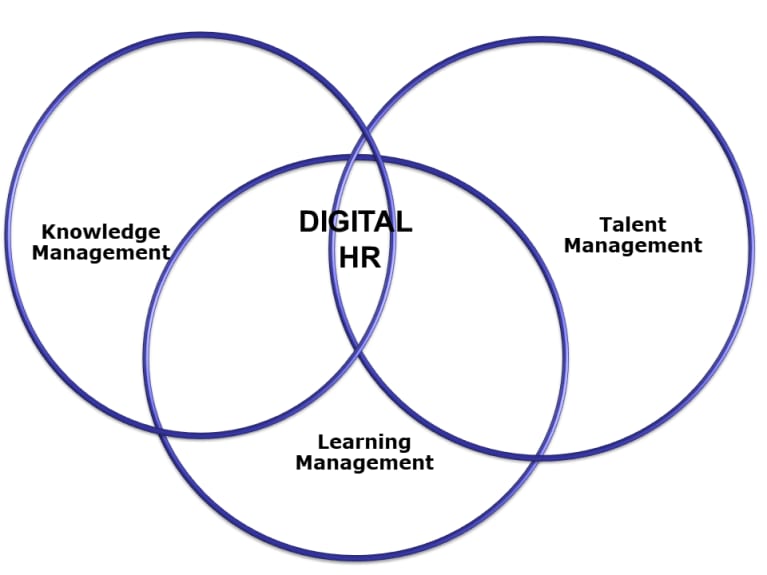 The HR leader has important oversight responsibilities for three domains: talent management, learning management and knowledge management. For the sake of the HR strategy creation, consider them separately. Both talent management and learning management can and should depend upon actual systems. They should be mobile friendly and cloud enabled with access to big data and analytics as well as machine learning. Then work hand-in-hand with IT within your organization when researching and selecting HR talent and learning management systems. But drive the process to create a digital strategy by asking questions about how the system(s) will meet talent, learning and knowledge management organizational needs.
Incorporate Technology Trends in the HR Digital Strategy
Employees expect mobile access to performance tools, personal information, learning and knowledge. The C-suite wants data analytics for accurate, useful reports as well as performance and financial data. HR needs employee information with patterns and trends for decision making. The IoT and machine learning offer greater insights into these patterns. All of these technology trends should be incorporated into the HR technology strategic plan. Keep in mind that a well-designed self-service portal that is mobile friendly offers seamless access to employees for all the talent management functions.
Determine the Talent Management To-Be State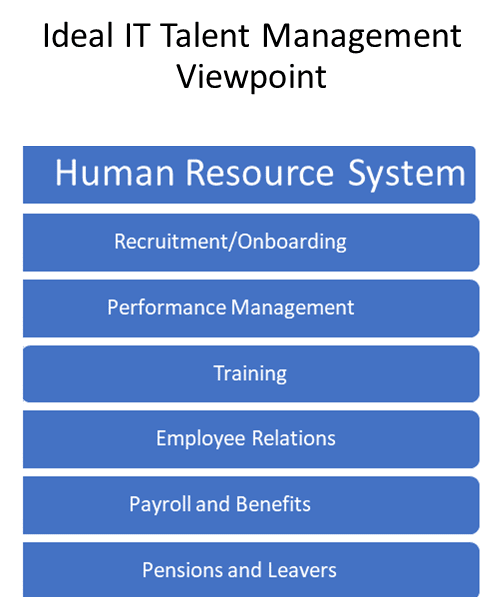 In order to obtain a single version of truth, your organization may need to update the existing system or invest in a different HR system. This will lead you to consider the options: build, buy or outsource HR system function(s). HR systems should offer mobile access, cloud computing, big data for analytics, IoT for machine learning and incorporate social media. From an IT perspective, ideally one HR system should support all major HR functions: recruiting, onboarding, performance management, training, employee relations, payroll, benefits, pensions and offboarding. Vendors often promise a single, full-service solution. However, it is unlikely that one system will do everything well. A realistic goal is to reduce the number of HR systems as much as possible, avoiding redundant functions and driving toward managing knowledge with access to a single version of truth. This may also impact the design of the HR department to more of an HR business partner role. 
Design Learning into the Digital HR Strategy
Learning management is the responsibility for overseeing organizational, team and individual learning. A learning management system (LMS) is the software used to design, deliver, store and manage training content. Technology-enabled learning management is a mature, highly sophisticated industry. The learning experience platform (LXP) is the next generation LMS. An LXP is a platform that allows individual aggregation and collation for the learner. Often machine learning and artificial intelligence is embedded in the LXP for curating and customizing individual learning plans. 
An LMS or LXP may be part of a larger talent management system or it could be altogether separate. These are not just IT decisions. They are in your domain and they are important decisions. The LMS should be cloud-based and mobile-friendly, incorporate social media and provide IoT and big data options. 
Individual, team and organizational learning must be ongoing. Employees expect to have learning resources available and accessible anywhere, at any time and delivered using a suite of venues (PC, phone, webinar, etc.). This doesn't just happen. You must build your learning technology approach into the HR digital strategy.
Highlight Your Organization's Unique Approach to Knowledge Management
The organizational culture, mission and vision should influence the design of the digital strategy. Specifically, consider the organization's approach to knowledge management. What kinds of knowledge are valued? How will knowledge be created and/or, if missing, how will knowledge assets be acquired? What knowledge informs decision-making? What knowledge assets should be shared, when, and with whom? How should knowledge be shared and in what formats? Where will knowledge be stored? These questions address all aspects of the knowledge lifecycle. These answers directly impact your HR digital strategy.
Technology enables knowledge management. The level of sophistication may vary. It is not necessary to use the most complex technologies for knowledge management. What is important is the organization's espoused philosophy of knowledge management and how that is executed. 
Create an HR Digital Strategy Focused on Knowledge, Talent and Learning Domains
Your strategy will include systems, yes, but the HR digital strategy should not revolve around technology. Systems are, after all, just tools. Create a digital strategy that specifically delineates how HR leads in the areas of talent, learning and knowledge management. How will you address these domains to optimize HR's impact on and support of the organization and its employees? 
Create a powerful HR digital strategy that aligns with your organization's mission and culture, incorporates findings from the questioning phase, maximizes technology investments and meets the goal of optimizing talent, knowledge and learning management. Your HR digital strategy should artfully incorporate talent, knowledge and learning management into a unique plan customized to your organization and its workforce.