June 12, 2020
Amid COVID-19, Leaders Rethink the Role of CHROs
We are now six months into the COVID-19 pandemic with millions being affected by the virus daily. Nearly 400 businesses are shutting down every day. According to the Society of Human Resources Management (SHRM), roughly 38 percent of employers are reporting layoffs or furloughs, and 70 percent of Americans are working from home or on a modified schedule to accommodate social-distancing measures. 
This crisis is proving to be the most significant business challenge since World War II. No event has threatened human life on such a global scale in our lifetime.
What are the captains of industry saying? How are businesses staying ahead of the curve? A report recently published by SHRM's Executive Network, HR People + Strategy, The CEO's Biggest Awakening: Amid COVID-19, Leaders Rethinking the Role of CHROs, shares the insights of SHRM's CEO Johnny C. Taylor, Jr., on how CEOs are navigating the pandemic and what has become the priority number one for many of them.
Top Priorities for CEOs
According Johnny C. Taylor, Jr., at the beginning of the COVID-19 pandemic, CEOs were looking to protect their people and business in ways that would enable their organizations to come out stronger when it is over. It was clearly a tough road that lay ahead of them when balancing the needs of staff with the requirements of shareholders.
Some organizational leaders, however, have found ways to adapt in the face of the COVID-19 pandemic, often with ingenuity. SHRM research released in early April on the business impact of the crisis revealed that 17 percent of employers were shifting their operations to a new revenue stream and bringing on new staff, including CVS Health and beverage giant Bacardi.
Taylor shared that in his role as president and CEO of SHRM, he has focused on the same issues as the organization evolves their own business model to respond to the pandemic proactively, and his enterprise has been able to reinvent itself while stabilizing its existing lines of business.
One of his biggest questions was: What makes an enterprise truly successful in moments of crisis? Having a great CEO helps, but the key to success in extreme situations is more significant than the shrewdness of the CEO; the key is the team to which the CEO belongs. How does that team handle a crisis?
According to Taylor, to prepare CEOs for effective leadership in stressful, survival-oriented situations, it is critical for CEOs to act with agility and flexibility, steering the company on the right path as it confronts disruptive forces ahead. 
The CEO's Partner
As Taylor shared, in 1999, as the Y2K crisis-built anxiety about systems failing worldwide, no one was a greater asset to a CEO than the chief technology officer. In 2008, when finding financial capital was difficult, the chief financial officer (CFO) stepped up. While those challenges appeared monumental at the time, nothing compares to the current impact of the COVID-19 pandemic. For organizations to succeed in 2020, CEOs must create a strategic partnership with their newest top asset—the chief human resources officer (CHRO).
According to Taylor, for today's CEOs the business strategies have shifted from protecting the organization's business and human interests to exploring the organization's ability to survive and reinvent itself. All of their questions reflect a desire to sustain the enterprise and the people it's made of, which boils down to one simple question: Do CEOs have the right CHRO? 
In a recent article, The Economist highlighted the rise of chief people officers/CHROs in a COVID-19 world. Today, those CHROs are tasked with reimagining work, how workers perform it and what a safe workplace looks like.
The organizations that are thriving in this era of uncertainty are led by CHROs who exhibit this gift for reimagination. Just as CFOs have had to think of new ways of generating revenue or capital by exploring diversified portfolios, CHROs are diversifying operations and thinking of new ways to generate revenue in a sustainable way.
Characteristics of an Ideal CHRO
In the report, Taylor shares research conducted by SHRM's chief knowledge officer, Alexander Alonso, Ph.D., SHRM-SCP, who has studied this very phenomenon. After conducting thought-provoking and forward-looking conversations with about 60 CEOs, Alonso discovered that the CHROs who succeed tend to focus on the right things (results, reconnaissance, resourcefulness and reimagination), and the CHROs who fail tend to focus on the wrong things (rules, roles, relationships and righteousness).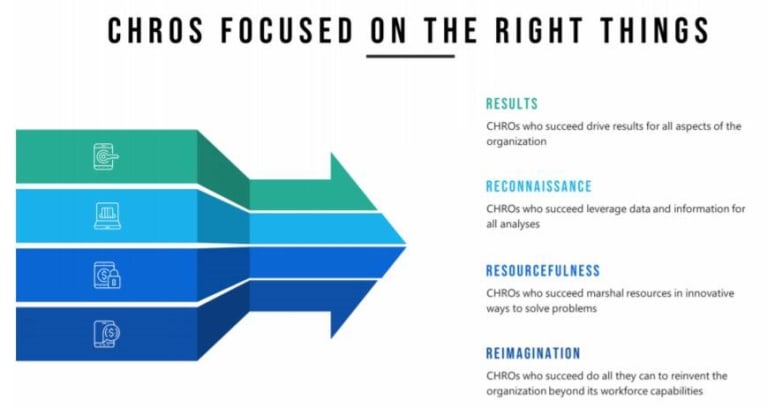 This focus on the four wrong Rs is more the norm than any of us would like to admit, reflecting the experiences of 3 out of 4 CEOs, based on Alonso's interviews. A select number of CEOs, however—fewer than 1 in 4—are fortunate enough to have CHROs on their team who apply very different R principles. These are described in the report, along with examples of how these successful CHROs are doing the right things during the COVID-19 crisis.
In sum, Taylor suggested that, "Identifying proper CHRO skill sets is a core imperative of sustainable enterprises. It is the difference-maker when disruptive phenomenon knocks at our business doors. In the era of COVID-19, choosing the wrong CHRO might be a CEO's biggest regret."