February 25, 2021
3 Steps to Turn Knowledge into Action
Executives can become perplexed by the amount, both depth and breadth, of knowledge management models and applications. A model that can easily be applied and takes into consideration some of the major tasks that executives must consider is needed. Knowledge management is only valuable when the knowledge can be operationalized into results, such as lower operational risk, employee development or responses to external changes. 
Three-Step Knowledge Model
Leaders can look at the three-step process of knowledge accumulation, integration and reconfiguration as a way to ensure that the knowledge is helping the organization prevent further operational risk and grow both professionally for individuals and profitably for all stakeholders.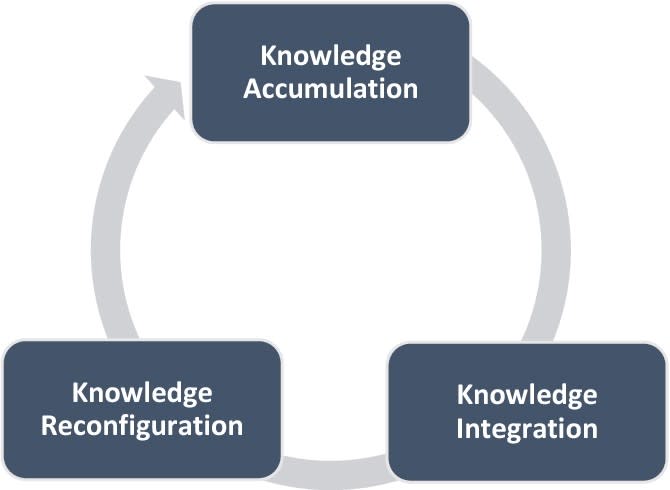 Victor Sino, head of Americas operational risk at HSBC Global Banking and Markets, states that the standard definition of operational risk is risk of loss due to failed people, processes, systems and an external event. Some of these can be controlled by executives and others are risks that have to be factored into strategic decision-making.
1. Knowledge Accumulation
Knowledge management in enterprises can be evaluated by measuring the processes of knowledge finding, integrating and networking. The knowledge accumulation process in this model plays an important role for organizations through acquiring knowledge and information from the external business environment and developing the capabilities to create new knowledge within a company. In doing this process, executives can particularly develop a workplace that is effective in:
Acquiring knowledge about new products/services within the industry.
Benchmarking performance with competitors or industry. 
Using feedback to improve subsequent practices. 
Utilizing teams (e.g. committees or management teams) to manage knowledge resources.
Developing and implementing education or training programs.
Carrying out a career path program or recruitment program to acquire experts. 
Conducting organizational events (such as a knowledge contest or knowledge fair) that promote knowledge activities.
2. Knowledge Integration
A further step to implementing knowledge management is to integrate knowledge within companies. Executives can synthesize new knowledge and information to improve the effectiveness of organizational processes and the quality of products or services. Executives can promote knowledge integration by creating expert groups or steering committees to enhance knowledge quality and evaluate knowledge assets. Executives can also facilitate this process, by undertaking initiatives that provide learning and development opportunities for employees to share their knowledge within companies. 
Cheryl Stargratt, Group Regional Vice President of HR at IPEX Group of Companies and the 2017 Canadian HR Leader of the Year, said that "people want to be developed. It's not about having the expectation that people are going to stay 10 or 15 years or that they owe us something for developing them." The development becomes a key piece in retaining employees.  
The key here is to internally integrate knowledge so that it is quickly retrievable at the right time and place. Knowledge cannot be used adequately if it takes time to acquire it. In doing this process, executives can particularly develop a workplace that is effective in:
Monitoring or controlling organizational knowledge to keep product or services in line with market requirements.
Regularly assessing knowledge requirements according to environmental changes.
Linking the knowledge sharing system using various software and programs.
Defining core knowledge or core competence areas.
Using expert groups to evaluate the quality and effectiveness of organizational knowledge.
Disseminating organizational knowledge among employees.
Rewarding individuals or teams based on the quality of knowledge generated.
3. Knowledge Reconfiguration 
It is becoming more common for competing organizations to share common knowledge so that it can be used by the industry as a whole when the information is non-specific to a certain organization. Organizations must collaborate with other companies and share their knowledge to improve community issues and global problems in a manner that solves problems and creates solutions when necessary. This is called knowledge reconfiguration. 
The key kernel for executives is that knowledge is shared with other organizations to recognize the changes occurring in external environments and respond to them quickly and effectively. In doing this process, executives can particularly develop a workplace that is effective in:
Creating knowledge alliances with suppliers, customers or other partners.
Sharing knowledge management visions and goals with external partners (such as suppliers and customers or other partners) to develop collaborative activities, shared goals and trust-based relationships with them.
Extending (or linking) knowledge related policies or rules (measurement, rewards) with external partners.
Linking the knowledge sharing system with external partners.
Facilitating and implementing activities such as conferences, contests or seminars with external partners. 
Executives can easily see that applying knowledge management using the three-step process above is advantageous to strategic implementation.