Can you feel and see the rumblings of the next phase of the COVID-19 crisis on the horizon? We've been in a mix of constant change, uncertainty and regulatory direction. People are getting antsy. People are getting even more expressive and emotional. The feeling isn't all good either. With the inevitable lifting of restrictions, people are voicing their opinions on timing, the extent of movement and political posturing is growing. To be honest, this next phase can be almost as unsettling as the front part of this time in our history.
We were asked to take drastic and immediate action when this all started, and now we're asked to slowly return to . . . normal. Let's be clear – normal isn't going to be what it was. It just isn't, and it shouldn't be !!
I am so pleased that HR has stepped up and into leadership during the crisis. It has been long overdue. There are several blogs which have featured senior HR leaders and how they've been the voice of strategy, response and direction. It is unfortunate that we were only looked to as leaders because potential tragedy loomed in organizations and workplaces. I don't want to take away from any of the great work that has been done to date in the least. The circumstances we find ourselves in have allowed HR to flex their muscles and show how a people-centric approach was needed in our companies. Because, like most issues in the workplace, the center of them is people. It always has been . . . and always will be.
People are now seeing HR as it should be seen. This isn't a call to take advantage of a crisis. It's a chance for us to step into leadership because that is the vantage point from which HR operates best.
My hope is that we don't return to any semblance of normality as HR practitioners. We can't step away from being leaders. We should take up the same mantle we've assumed during this time of crisis and be those who help organizations perform through its people. We need to be present and visible from now on and not shrink back to our places of feeling we're merely a support function.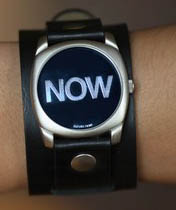 Our time is now !!
I mean this with every inch of my being. I am calling out and throwing down the gauntlet to my peers to continue leading in every facet of your work. There is no reason for us to be on the sidelines or in the shadows. We need to break from the traditional pattern of yearning and hope that "one day" we'll be called upon. That day has arrived. The opportunity which lies before us is wide open and can be defined by us through a continued movement which we are currently facing.
It's intriguing to me that people are pushing against the boundaries of the restrictions we've been placed in to keep us safe. They're looking for the ability to move around, interact and return to work. There is a palpable energy that is about to be unleashed. We should ride that train of emotion and stop our continued systems of confinement and restriction in HR.
People have been working from home and redefining productivity, innovation, collaboration and connection. So, why would we push for people to get back into their place in line? This is a time for us to unleash the talent which people possess and expect them to continue to produce, develop and grow !!
It's also time for us to embrace the skill of being agile and adaptable. We were forced into this a few weeks ago, but now we can continue to practice agility and adaptability !! My good friend Paul Hebert recently wrote a post on HR Examiner asking – "Can HR do their future job?" My answer is a resounding, "YES !!!" There's absolutely no reason to seek normality. It's our time to launch forward and construct the new workplace, create the new expectations of performance plus encourage the development of talent throughout the organization.
I plan to move forward. Will you go with me ?? My hope is that we continue to lead, grow and thrive personally, professionally as a global HR community.
Our time is now !!
Originally published on the Everyday People blog.
The SHRM Blog does not accept solicitation for guest posts.